We value Veterans and their sacrifices for our country. We're looking for Veterans who want to become local owners of a Vets Haul Junk Removal business. Vets Haul Junk Removal partnerships are only offered to Veterans of the US Armed Forces. Our initial start up investment is among the most competitive in the industry.
If you'd like to become a member of our team, perhaps a Vets Haul Junk Removal partnership may be right for you.
Behind every veteran is a story of bravery and sacrifice. That drives our mission to support them and their families in successfully transitioning to civilian society post-service.
Working together to provide an essential service that consumers and businesses need, we want to transform the working lives of our veterans by offering them the ability to purchase a franchise and become local owners of a Vets Haul Junk Removal business.
You inherit several valuable assets when you invest in a Vets Haul Junk Removal franchise. The most useful is our already-built reputation and the instantly recognizable brand you get when you partner with our established company in 2015 in Northern Virginia and North Carolina.
Consumers and businesses need professionals they can trust, and throughout our history, we have been known for honoring values like respect and ethics daily.
Our partnerships are only offered to Veterans of the United States Armed Forces. Our initial investment is one of the most competitive in the industry. If you want to join our firefighting team, a Vets Haul Junk Removal partnership may be right for you.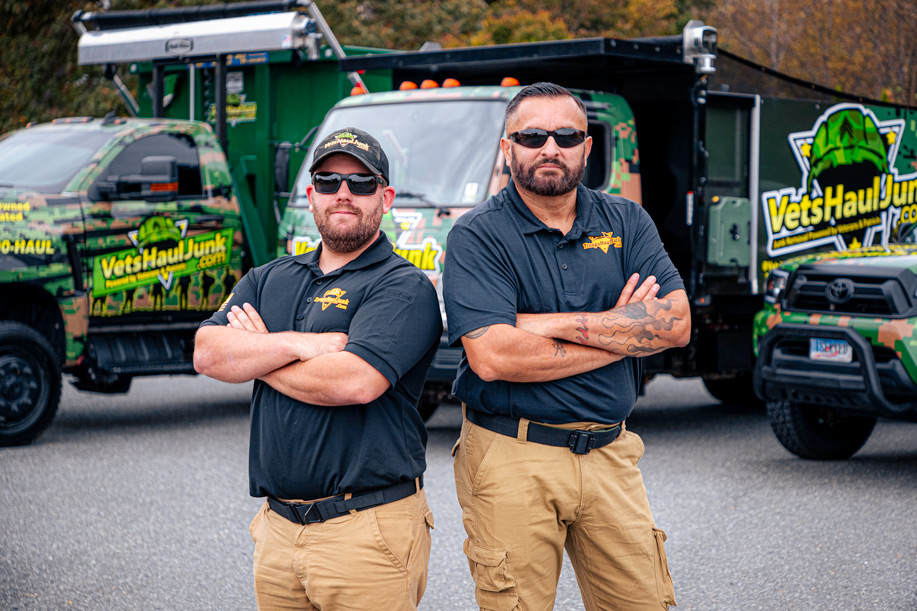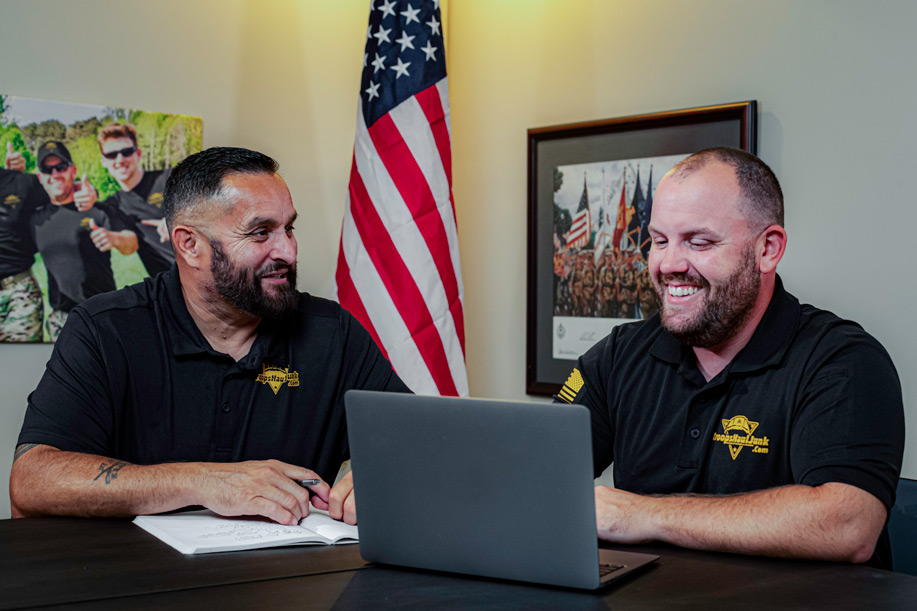 What are the benefits of
our junk removal franchise?
When our customers hire us, they get the best junk removal services, dedication, and care from each team member. That's why you don't have to work hard to establish recognition because with Vets Haul Junk, you get a business that has already proven successful and has an established brand name in the marketplace.
By investing in a Vets Haul Junk Removal franchise, you gain immediate appeal because you are offering the services of a company that your future customers already know and trust. Plus, you'll have procedural manuals allowing you to grow the business quickly.
With a Vets Haul Junk Removal franchise, you will never be alone. So if you're concerned that you're inexperienced in running a junk removal business, you'll always receive guidance and support from our parent company. In addition, we will share our industry knowledge and help you establish your new partnership.
Northern Virginia and
North Carolina
Our team is ready to assist you
Our franchise is a safe bet since it has the backing of a consolidated company with many years of experience. Help your community get rid of their junk while recycling and saving the planet.
Fill out the form below, and we will contact you immediately. Our team is ready to assist you.
What Vets Haul Junk Offers
Whether you are cleaning out the garage, basement, home, construction site, or estate, and want to get rid of that junk, at Vets Haul, we customize our services to help real estate agents, commercial businesses, or homeowners. Our team members can do all the heavy lifting. We are here to meet the junk removal needs of our customers.
Cleaning out your garage and removing unwanted boxes, clothes, or junk is a simple task with our services that ensure a healthier and more spacious environment. In addition, our junk haulers can draw anything you have in your garage from the past few months or years. If you've imagined what life could be like with a clean and organized garage, call us at (540)657-VETS or (704)800-HAUL to make it a reality.
With our professional furniture removal services, we'll take away appliances and even hot tubs in no time. We know that removing and disposing of junk can be difficult for you, but with our team, we'll help you get rid of your trash and ensure it ends up in the right place. So call us today if you want us to help you tidy up and make your home look more spacious
If you have some old mattresses you want to get rid of, call Vets Haul Junk Removal to hire a professional to pick up and take it to a recycling center or landfill. Removing old items can be annoying and stressful. Fortunately, our team is available to help you. We handle mattress removal of all shapes, sizes, and quantities from your residential or commercial property.
Whether working on demolition, remodeling, or completing a construction project, Vets Haul Junk offers a professional and safe debris removal service. We can ensure that we will remove construction debris so you can complete your project. In addition, our team provides an eco-friendly construction waste disposal service, so you don't need to worry about residue pickup.
Do you have an old hot tub that you no longer use? Let Vets Haul Junk take care of it. Our team offers professional hot tub removal services to help eliminate your old hot tub and make more room in your yard. We will take your hot tub and dispose of it properly.
"Our business is built on the core values of military service and the leadership principles of the United States Armed Forces.

We aspire to promote and encourage the highest caliber of customer interaction in all we do, while simultaneously uplifting military veterans through junk removal franchise business ownership opportunities."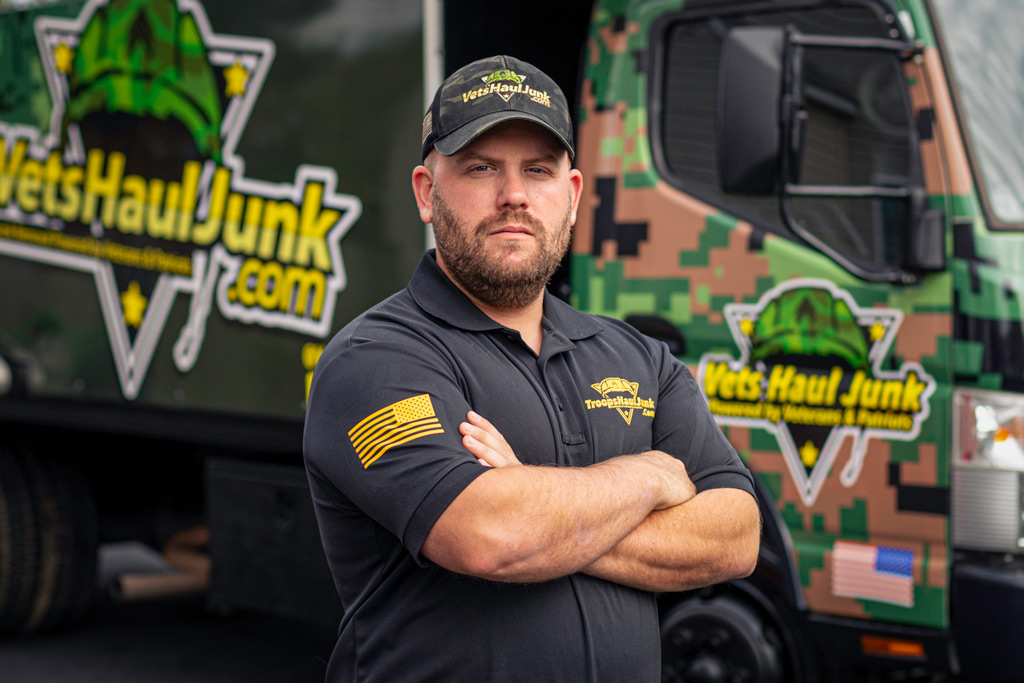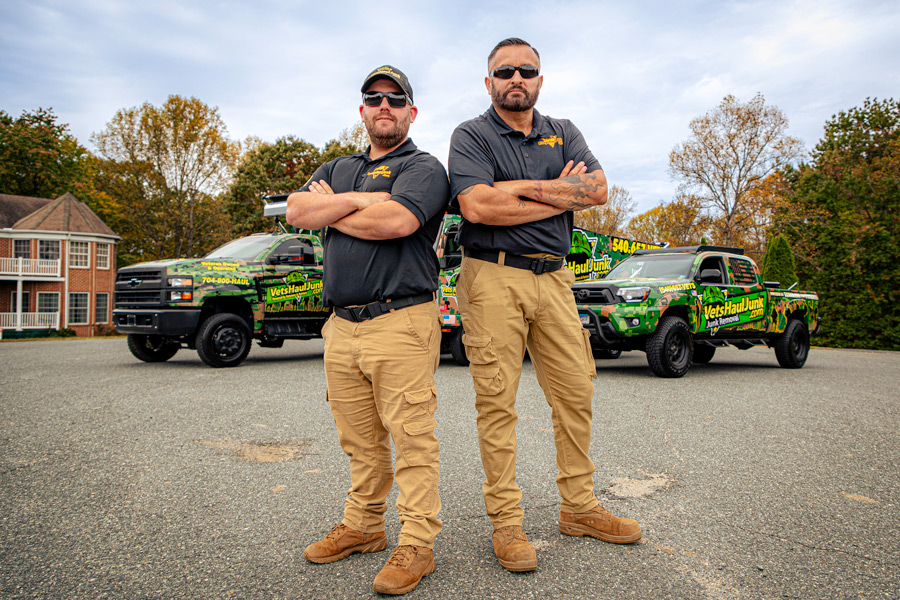 About our eco-friendly practices
At Vets Haul Junk, our most excellent satisfaction is knowing that our business helps the community daily. Being part of our franchise further strengthens our commitment to our local customers to get rid of junk and find good homes for those unwanted items. 
You can enjoy financial success and peace of mind because we are widely recognized as an environmentally conscious business that puts extra care into our junk hauling services. 
At Vets Haul Junk, we strive to recycle and reuse as much as possible in our cleanup projects. Our mission is to minimize the amount that ends up in landfills.